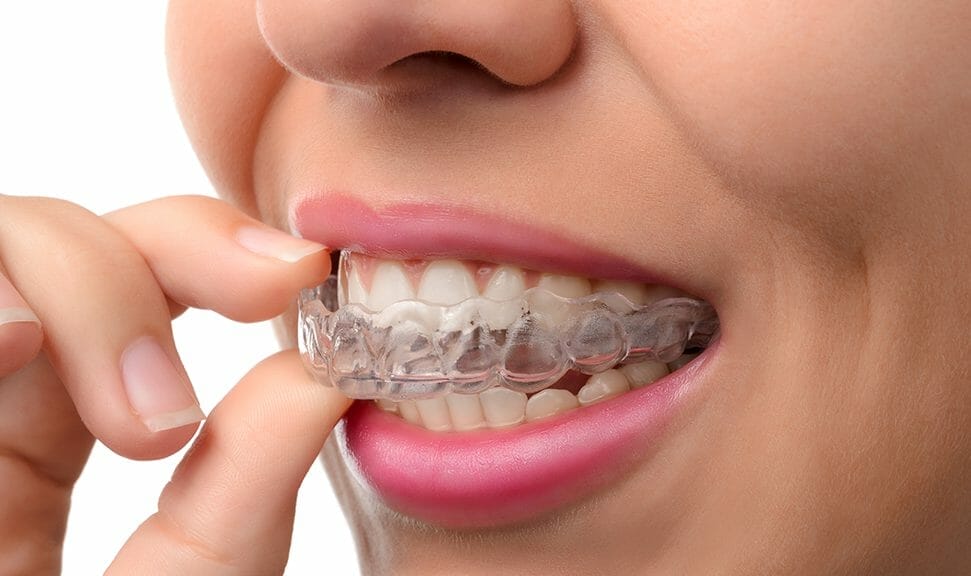 ---
As your top Mississauga dentist and Invisalign Mississauga provider, we know that a healthy smile is a beautiful smile. Have you ever wondered if Invisalign in Mississauga is the path for you? What does the process entail? How long is the treatment? How does it differ from traditional braces? What are the pros of Invisalign? As your top choice Invisalign Mississauga provider, we aim to provide you with the information to guide you through your journey to a healthy and beautiful smile!
So what is Invisalign? They are clear aligners that are made with BPA-free plastic which are used as an alternative to metal braces. These trays are changed every 2 or 4 weeks and treatment can last anywhere between 6-18 months as opposed to the traditional braces treatment that can last up to 2 years. You are instructed to wear the trays for at least 20-22 hours a day. These trays can be removed while eating or drinking as well and for those short moments when you prefer not to wear them (i.e. when taking a picture). This adds a sense of convenience compared to traditional braces which are stuck to the teeth.
It is worthy to note that not all patients meet the requirements for Invisalign. A lot of factors are taken into account such as the severity of the case. The best way to find out is to book a consultation to see if you meet the requirements and are a candidate for Invisalign. At Credit River Dental Centre, we provide a complimentary 15-minute consultation for Invisalign in Mississauga where you can ask questions, learn what the treatment entails and determine if Invisalign is the right fit for you.
So what happens during your Invisalign journey? Once it has been determined that you are a candidate for Invisalign the treatment cost will be determined by the complexity and duration of your case. If you have any dental coverage or extended health benefits this can be discussed with our administration team to determine eligibility.
At your initial appointment, photos, the necessary x-rays and impressions will be taken. These are all then sent to Invisalign. Once they have received the photos, x-rays, impressions, and prescription for treatment a plan for your Invisalign case is then created.  We will then contact you to come in to discuss the proposed treatment plan. This discussion will include the length of the treatment and the proposed results of the treatment. Upon your approval to proceed with the full treatment, your trays will be created which is a process that takes approximately 2 weeks.
Once your Invisalign trays are delivered, we will call you for your first try!  The trays will look similar to a mouth guard but are made of a thin but first BPA-free material. You are sent home wearing these trays for at least 2 weeks.  In some cases, buttons are placed on certain teeth to assist in tooth movement – these are tooth-coloured.  Oftentimes this is done at your second appointment where you will then receive your second set of the tray(s)…You will continue to come in for your next set of trays/aligners every 4 to 6 weeks until the end of treatment. At the end of your treatment, you may be required to wear retainers for an additional number of weeks or have a lingual wire placed to maintain your new smile.
Here at Credit River Dental Centre, we help lead the way to a healthy and beautiful smile with Invisalign in Mississauga.  With advancements in the dental industry, it is now easier to have the smile you always wanted! As your choice Invisalign Mississauga provider, rest assured that your journey will be led in the right direction. Give us a call today at 905-278-4297 to book your complimentary consultation!