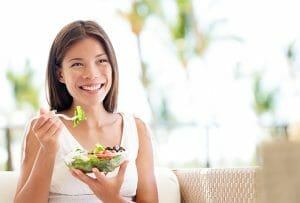 ---
The New Year is a great time for people to take charge and think about creating goals on how to improve their overall health. We all strive to see a better version of ourselves as each year begins – whether it be through making healthier diet choices, getting more exercise, or by practicing overall healthier habits. As we are a few weeks into the New Year, we may want to also consider creating oral health goals as a part of contributing to our overall health as well. As your Mississauga Dentist, we have formulated five goals to help you to achieve a healthier smile for this New Year!
Develop the habit of flossing

We understand that flossing can seem tedious and a bit time consuming, however it plays an essential role in keeping our gums healthy. Did you know that you miss 35% of tooth surfaces in your mouth when you don't floss? Unfortunately, tooth brushing alone cannot get into those hard to reach surfaces, which is why brushing and flossing come hand in hand. Having bacteria and food debris left over can cause build up in between your teeth and can lead to further negative effects on your mouth such as getting cavities, gingivitis, and gum disease.

​

Invest on your toothbrush

It is very easy to lose track of how long we've had our toothbrush or toothbrush heads on for. Overtime, the bristles of our toothbrush wear down, causing them to be less effective and actually can cause more damage to our teeth and gums. It is important that we replace our toothbrush or toothbrush heads every three months.

Another thing to also consider is investing on an electric toothbrush, which is the most effective tool for plaque removal. Electric toothbrushes have multiple benefits in comparison to manual toothbrushes. For more information on the benefits of electric toothbrushes, you can check out of one of our previous blog posts, "Give the Gift of Oral Health

"

​

Visit you dentist regularly

At Credit River Dental Centre, our main goal is to guide and help you in achieving your optimal oral health. More frequent dental appointments allow the dentist and hygienist to monitor the health of your mouth to help keep you on track. Regular dental hygiene visits are highly recommended in order to help you prevent gum disease and reduce the risk for tooth decay.

​

Quit smoking

This is a great goal that will not only impact your oral health, but will also help to improve your overall health. Smoking affects your dental health in many ways; it can put you at a greater risk for developing gum disease, tooth decay and oral cancer. Smoking can also cause our teeth to develop more tartar buildup, discoloration and staining. Fortunately, there are many aids that are out there in order to help you to break this habit such as the patch, medication, online resources and support groups.

​

Eating healthier

Eating well is on most people's New Years Resolutions list, however may not be on there specifically just to improve their oral health. Fruits and vegetables are actually great for your teeth. Crisp and crunchy fruits in vegetables help to naturally remove the plaque off your teeth. Other fruits such as oranges and bananas contain supportive vitamins and antioxidants to help prevent gum disease. It is also important for us to try and avoid foods that are high in sugar or are acidic since they can cause damage to our teeth and can result in cavities. This does not mean eating sweets should be completely avoided, however we must always make sure we are eating them in moderation and making sure that we are rinsing our mouths with water after and brushing every night to ensure the sugars don't stay on our teeth.

Improving your oral health and overall health go hand in hand. We, at Credit River Dental Centre, wish that you all have an amazing New Year and hope that these goals can help give you some inspiration and motivation for the New Year.